Traveling in Japan on a budget but still want to sample local food? Go try 丸亀製麺 Marugame Seimen, my go-to for yummy yet cheap udon!
Marugame Seimen is a big chain that specializes in udon, with more than 800 stores all across Japan. They have 65 outlets in Tokyo alone, and I will be linking traveling directions to some of the main tourist spots at the end of the post!
I really love the chewy texture of this chain's udon! I know some of you don't like udon cause it's very thick and difficult to eat, or you hate the "nua" feel when the udon gets soggy, but this one isn't like that!
Even if you don't speak Japanese, it is very simple to order here. Just point to pictures in the store, or use the handy step-by-step guide below to order! (taken from the official Marugame website)
1. Select your udon
Type of udon (1 of the above, or any specials they have at the time)
Size: 並 regular or 大 large
Temperature: Hot or cold
2. Select topping(s), if desired (tell it to the same person you order the udon from)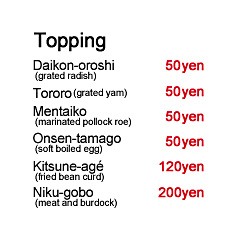 3. Place everything on tray and move to the Tempura/Omusubi section. Kiap any side(s) yourself, if desired.
4. Pay at the register (cash only)
5. Add soup and condiments

6. Choose any free table and dig in!
7. Clean up the table and return the tray to the tray-return area
If you are lost on what to try, here are my personal favorites. I order the same thing every single time! Although I should probably try some other combination…
Bukakke udon, regular, cold. Cold is SO delicious!
Add onsen tamago (soft-boiled egg) for topping
Ebi tempura and/or Chikuwa tempura for sides
Heap on tenkatsu (the freebies in step 5)
I'm stuffed to the max, so I can't imagine eating a large-sized bowl or adding rice (omusubi) to the mix!
Here is what I had most recently:
I had to make do with "Hot" because they don't offer "Cold" in winter :(
"Hot" is with mild-tasting soup filled up to almost the brim of the bowl, whereas "Cold" is thicker sauce-like soup that is about 25% of the bowl.
Here's a picture of the cold udon:
One interesting thing is that, starting February 2014, every 1st of the month is Marugame Seimen Day!
What happens on that day? Kamaage udon is half price!
Maybe this is a good chance for me to finally try their 招牌菜 (star dish)!
---
Marugame Seimen Kamaage Udon
Click on respective locations below for map and opening hours.
Shibuya (5 mins walk from Shibuya station, Hachiko exit)
Shinjuku (30 seconds from Shinjuku/Shinjuku-sanchome station, exit B2)
Ikebukuro (7 mins walk from Ikebukuro station, East exit, inside Sunshine City)
Haneda Airport Terminal 2
For the full listing in Japan, click here.