We're back from our 10-day Seoul trip! It was definitely an interesting experience, but I won't get into the details in this post. Not with 2 full luggages sitting around me and loads of laundry waiting to be done… D:
I just wanted to quickly write this down because I'm still feeling a little pissed over it… and also so that other people won't make the same mistake as I did! (doubt any one will though… :C )
In Korea, you can do tax-free shopping at shops with either of these logos: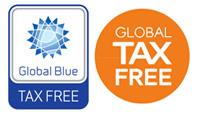 Generally, any purchase above 30,000 won in a single receipt is eligible. You will get the VAT (value added tax) amount back, which is about 8% after a cut is taken as service fees.
I didn't realise the amount was so low to qualify. 30,000 won is like 3,000 yen or SGD $36 only! :O
My impression of tax-free shopping is like have to spend a few hundred dollars, and I never spend that much at those shops anyway, so I was unaware of it till halfway through the trip.
I was also happy to discover that many of the skincare/cosmetic brands I was buying were all entitled to tax refunds. Nature Republic, Etude House, Innisfree, Holika Holika, Beyond, Tony Moly, Skin 79, etc.
BLISS!!! It's like having an additional 10% off!
Note: I did read somewhere that Nature Republic requires a minimum spending of 50,000 won instead of 30,000 won though. I spent above 50,000 though, so I'm not sure.
Since then, I diligently collected all my receipts and even organised my luggage for optimal checking and clearance at the airport.
We arrived at Gimpo Airport 3 hours ahead of our flight to have ample time for clearance and I proceeded to the counter quite excitedly. First time doing tax refunds!
I proudly took out my neatly stacked receipts and she looked through them one by one. I figured she was checking to see the amount qualifies.
When she reached the last receipt, she looked up at me and said:
I'm sorry. None of these are tax-free receipts. You can't claim any of them.
I heard the words, sort of.
But I couldn't process them.
Why is she apologising? What is "can't" and "claim" in the same sentence? I think I made her repeat herself another two times.
Then she took out the form with a sample receipt to show me.
TURNS OUT YOU MUST REQUEST FOR THE VAT REFUND RECEIPT.
UGHHH. My first thought is, "WHY THE SALES STAFF NEVER TELL ME?!?!!" They definitely know I'm a tourist, but didn't even ASK me if I wanted a tax refund receipt. Not a peep from them!
But in the end, it's my own fault for not checking more carefully ._.
Well, it's "only" a SGD $50 mistake, but I can't help feeling cheated of my money :I You can also back-calculate how much I spent on skincare products :O
That, and I'm also upset that my first time attempt to do tax refunds is spectacularly superfail.
If you're laughing at me, kindly go slap yourself for being so rude and laughing at somebody else's despair. Karma will get you.
I'm guessing nobody will be noobshit like me, but just in case, please remember to ask for the VAT refund receipt! Regular receipts WON'T cut it.
You should receive something like: