Time really flies! It felt like I just wrote about the events of a weekend, and here I am, writing about another weekend already!
Like the weekend before, last weekend was a fulfilling weekend too!
On Friday, we went over to Sou & Claire's house to play card games! No, not the gambling kind. This kind:
Claire's sister was visiting and she brought this game along! This is what I call a true gamer lol. Bring games even on holidays :D I also did the same on my HK trip hahaha.
Koryo was quite a fun game and I might add it to my collection if I can find it!
We were also treated to a delicious dinner! Claire made this awesome quiche for us (and considering that she's French, it's mega authentic, can?!)
She cleverly replaced cream cheese with tofu, thus maintaining the texture and consistency, but making it so much healthier!
What? Tofu in quiches are not authentic? HELLO, the fact that French hands made it makes it authentic! Says me.
I think I overstayed my welcome (and they were far too hospitable to kick me out) because we were happily talking while Fu was happily sleeping on their couch (he wasn't feeling too well). I didn't even realize it was close to 2am!
Braved the crazy winds on the walk home, bathed, and slept at about 6am.
On Saturday, I was rudely awoken at 3pm by the sound of a doorbell. No. I'm not a pig in disguise. I just need lots of beauty sleep occasionally.
I was shocked out of bed when I realized it wasn't a postman, but Akshat at our door. That Fu! Didn't even tell me Akshat was on his way to our house! Tumbled out of bed, threw on a jacket and attempted to look like I didn't just get out of bed D:
It was Akshat's last day in Japan before returning to India. You know what he was doing at our house?
CODING.
Yep. He brought his laptop and Fu and him both, sit facing each other, each working away at their own computers. :S
Fortunately, Chin-san arrived a while later without a laptop! So we managed to get inject some fun into these guys' lives heh. We played a card game!
Sushi Go! – Super cute, super fast, super easy game!
For the fun of it, we decided to have bets for each game. Like: Loser will treat the winner dinner. Loser will pay for car rental. Loser will pay for bowling snacks. It was kinda hilarious how Akshat lost every single round. Even the practice round. Lol!
But we not so bad lah. It was his last day so the three of us treated him for the entire night's expenses.
After having dinner at Tenya (one of my fave places to eat, yum!) we headed for All-you-can-bowl bowling!
The package runs from 10pm to 2am, at 1,500yen (SGD 18) per person.
It was my first time bowling in Japan, and I noticed this interesting thing:
To retrieve your bowling shoes:
Press the red button to activate the machine
Push the button with your size
The shoes will rotate out at the corresponding size
Drop your shoes through this flap when you're done!
Kinda cool, right?! No more hopping about stupidly on one leg after trading one of your shoes for a pair of bowling shoes! (eh, they still do that in Singapore, yes?)
Here are the bowlers of that night!
We played non-stop for 4 hours, making for a total of 6 games. SIX! I think it's my first time playing so much at a go. Of course, I suffered the backlash the next day T_T
But ugghhh, the thing bowling ALWAYS does to me is this:
That, and I get butt aches the next day. Sigh.
One interesting thing that happened was that the bowling alley ran a special event of sorts! They dimmed the lights, and turned up the music.
For the duration of the song, any guy who scores a strike or any girl who scores a spare or strike gets to redeem a special prize!
Unfortunately, none of us won anything. I was really close though! If only that last damn pin fell with the rest -_-
Nonetheless, it was a fun night! We will miss you, Akshat!
After driving Akshat and Chin-san home, it was about 3.30am and I requested to pop by Shibuya because Fu said that years ago when he was out there clubbing, the streets get active at night.
I mean, Shibuya, center of gyaru fashion by day, sleazy district by night? I wanna see!!!
I was expecting a mini Geylang (Singapore's red light district, for those who don't know) but eh. Only have some pimps standing along the street by themselves. You don't see the girls themselves at all.
Fu says that when a guy passes by any of the pimps, they will call out to the guy to offer services. Some of them are even multilingual because one spoke to him in Mandarin before!
The street looked so quiet and unexciting. So anti-climatic! :G
Then I asked him to drive to the Love Hotel street, since I've never seen it before.
It's seriously… unexciting.
I didn't see a single person move in or out of the hotels as we drove around! The hotels could have all been closed and it wouldn't have made a difference.
Cheh. So boring. I'm rather disappointed, I must say. I had higher expectations of you, Japan!
We reached home and after bathing, it was about 5am. Fu then made a most shocking suggestion…
That we should watch an episode of "You who came from the stars" (a K-drama we were currently watching).
You must understand, Fu is the kind who conks out at 1am. (also the annoying kind that hops enthusiastically out of bed in the wee hours of the morning, even on weekends)
It was bloody 5am and he still wanted to watch an episode?!
I'M ON.
Hahaha.
By the way, "You who came from the stars" is a pretty good drama! A recommended watch!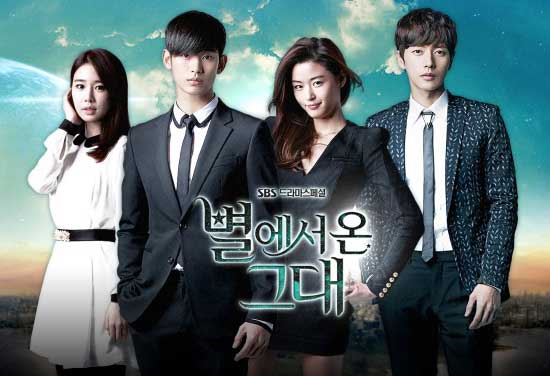 The lead actress, Jun Ji-hyun, is the same girl who acted in My Sassy Girl!
I rather like that this story didn't have a typical ending. I was praying so hard towards the end for them to not spoil the ending!
We went to bed at about 6am and I woke up a mere 4+ hours later to drag my body full of newly discovered muscles to dance class.
Finished the second and final part of the song from last week! Posting a video again because I love the song ^o^