The past weekend, Fu and I made a trip to see icicles! The Japanese name for icicles is tsurara, which sounds so cute, hehe. We missed it last year, but this year we quickly went to buy snow tyres and went on a one-day road trip!
After driving for ~3.5 hours, we arrived at our first stop!
Onouchi Tsurara 尾ノ内氷柱
Onouchi's icicles are actually man-made, and only came into being less than 10 years ago. Someone probably went "Hmm, how can we revive this town and bring more tourists here? Let's spray some water and make icicles!" It worked, seeing as we traveled all the way there lol.
Onouchi Tsurara is a very small place – the entrance area (with a couple of shops), the short walk from the entrance in, the bridge, and small wall of icicles make up the entire place. You can be done with the place in 30 minutes or less if you're quick. Us, we took longer as usual. We stayed about 1.5 hours in total haha.
There's also a light-up event on certain days!
We didn't stay for the light-up because we wanted to view the light-up event of another place. So we set off for our next destination, one hour away.
Misotsuchi no Tsurara 三十槌の氷柱
This is THE icicle place. Most famous of all the icicle places, at least as far as my knowledge goes.
There are two main icicle spots (side by side) in Misotsuchi. They are not in caves or anything, which was what Fu was expecting to see.
We were early, so while waiting for the sun to set, we roamed around the place.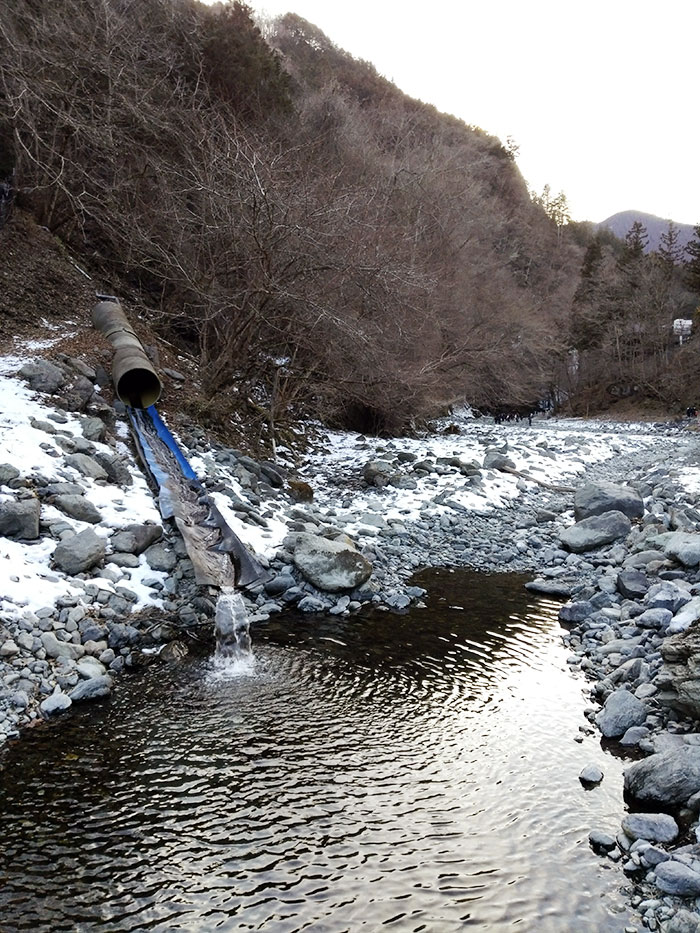 We saw many people loitering around this area and realized it was a frozen lake!!! Naturally, we ran towards it haha.
Then I ventured inwards , found an interesting spot and told Fu to come over. As he approached, one of his last steps towards me resulted in a ear-splitting
CRAAAAAAACCCKKKKK!!!
The kind of crack that is really soft, but is able to instantly rip through your heart and cause it to stop.
My screams reverberated around the entire area lol.
Then I yelled "DON'T COME CLOSER!!! DON'T MOVE!!!" *deep breath* *deep breath*
"Ok… ok… but stick your foot in – DON'T EXERT ANY FORCE!!! – for a photo"
Back at the main icicle spot:
Finally, the skies turned completely dark around 5.45pm and we headed back down for the illumination! (that's what they call it in Japan)
The changing of colors takes damn long and we waited forever to take the red one (cause Fu says it's very "mysterious"). So much effort so I have to post it:
Then, at another spot, the changing of lights was so quick – it's really like disco lights kinda quick – that it also took forever and 2619 shots to capture this shade that Fu likes most lol.
It was a very cold day out and our noses were involuntarily making their own icicles, but it was a lot of fun to go on a road trip together after a long hiatus!
Omake おまけ (extras)
Information
Onouchi Tsurara 尾ノ内氷柱
❅ 200 yen entrance fee
Misotsuchi no Tsurara 三十槌の氷柱
❅ Free entrance
❅ 500 yen for parking
Note: There are also bus tours to Misotsuchi. Can't comment on what's good because we drove there.
Best time to visit:
Mid Jan to late Feb. Check latest news for illumination dates.